Stress-Reducing Tips for Entrepreneurs With Disabilities
Looking for more support, resources, and to connect with fellow persons with disabilities? Check out the Disabilities-R-Us Chat Room & Community Forums!
As an entrepreneur and a person with disabilities, you are already keenly familiar with stress. Unfortunately, stress can result in physical effects, such as headache, fatigue, and irritability. You may also experience a lack of desire and drive. None of these are conducive to being an effective business owner. If you are not already, today is the day to focus on your mental and physical well-being. It starts with self-care, which can reduce stress so that you can feel your best. Here are some tips.
Listen to your doctor or physical therapist.
ChoosePT expounds on the benefits of physical therapy, citing that PT can help you remain independent, manages pain, and reduces the symptoms of chronic conditions. Because of this, one of the most important things you can do for yourself is to keep up with your physical therapy regimen. Your physical therapist and your healthcare provider can help you work a schedule, which might also include independent exercises at home or in the office. Your physical therapist may also suggest yoga, swimming, or another low-impact type of exercise.
Find social support.
Finding social support as a person with a disability isn't always easy. While your friends and family want to be there for you, having people that understand your personal style of struggle in your social circle will help you feel less alone. Disabilities-R-Us understands this and offers a free chat room so that you can connect with others who can truly empathize. Socialization, at any age, offers many positive health perks, including improved mental health and a greater quality of life.
Implement procedures at work that reduce stress.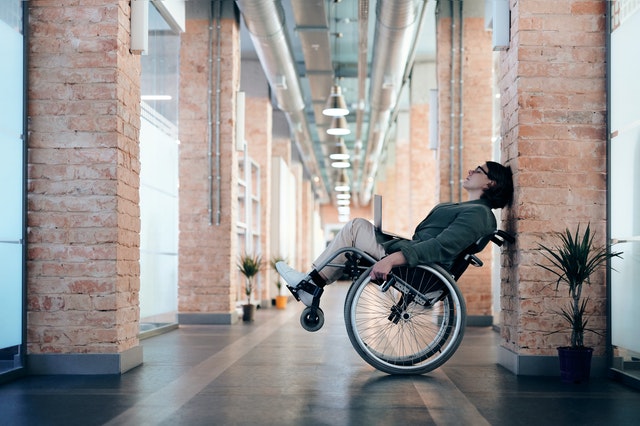 When you run a business, stress is simply part of the payroll package. But it doesn't have to be front and center every day. Look for different ways you can streamline operations and ease your concerns about everything from employee proficiency to financial losses. Creating a formal business structure is one example. If you want to register LLC Arizona business owners have options, including using a formation service, which can help lower your costs and keep you from stressing about how to pay for legal services. As an LLC, you also won't have to worry about your personal assets being seized if your business is targeted by a lawsuit or other type of loss.
Get enough sleep.
Get enough sleep — it's that simple. The human body was designed to operate most efficiently with approximately eight hours each night in adulthood. If you're not devoting at least that much time to catching your proverbial zzzzs, then plan to make changes to your schedule and your bedroom so that you can. The Sleep Judge offers several sleep solutions for people with disabilities, including using a variable posture bed, mattress variator, or pull strap to help you get in and out. But you'll also want to make sure your bedroom is dark and cool and that your covers are warm and breathable.
Hire an occasional assistant.
Do you ever get burnt out answering the phone, responding to emails, or keeping track of your social media? Of course, you do — you're an entrepreneur! Your time is likely best spent focused on your area of expertise. Don't be shy about finding a freelancer or part-time virtual assistant to take over mundane tasks that don't require your immediate approval. Doing so will free up time for you to do things — like visiting your physical therapist and getting plenty of sleep — so that you can be the best version of yourself.
Ultimately, running a business while also living with a disability is a stressful combination. But there are many ways to reduce stress so that you can take care of business more efficiently and effectively. The tips above can get you started, but it's up to you to follow through with your self-care strategies.
---
Written by Brad Krause for Disabilities-R-Us.
After spending years in a corporate setting and far too long neglecting his own self-care, Brad followed his calling and became a
full-time life coach. He spends just about every waking hour helping people find ways to put their wellness above all else.